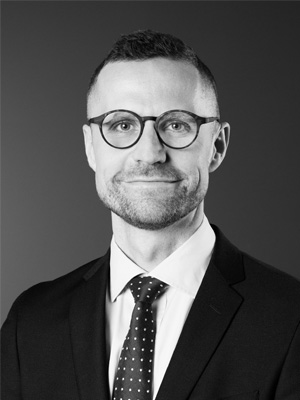 Attorney / Ph.D. / Councel
2022 - ADVEL Attorneys at Law
2017 - Reykjavik University, Associate Professor
2014 - 2017 University of Copenhagen, Ph.D. fellow in Capital Market Law
2010 - 2014 Special Prosecutor´s Office, Deputy Prosecutor
2010 - ADVEL Attorneys at Law
2007 - 2009 Financial Supervisory Authority of Iceland
Education
2017 Doctor of Philosophy (Ph.D.), University of Copenhagen, Capital Market Law
2009 Mag.jur., University of Iceland
2008 University of Copenhagen, Nordplus grant recipient
Admitted to practice before
The District Courts
Practice areas
Corporate finance and capital market law, financial services, corporate law and corporate consultancy and criminal law
Languages
English and Danish
Publications
Increased Investor Protection with MiFID II: Suitability and appropriateness test. 
lögfræðinga, 4/2020. Aðalsteinn E. Jónasson co author.
"Can Real Transactions Constitute Market Manipulation?" Festschrift in honour of Rolf Skog, desember 
2021, bls. 151-172
The EEA and Nordic Company Law. Nordisk Tidsskrift for Selskabsret, 4/2019. 
Disclosure of inside information when preparing financial reporting.
Úlfljótur, 1/2020
What information should the issuer publish? 
The term "inside information" in relation to the issuer´s disclosure obligation.
Adapting the European System of Financial Supervision (ESFS) to the EEA two-pillar structure - A 
workable solution?" European Company and Financial Law Review, 5/2019.
Icelandic company law in light of Nordic co-operation. In Selskabsloven – de første 100 år (Jesper Lau Hansen ed.), 2018. 
år
What is the essence of Market Manipulation?
"When must an issuer of financial instruments disclose inside information?" Tímarit lögfræðinga, 3. tbl. 
2013, bls. 241-279.
Market manipulation: Marking the open and close.
Verbal manipulation
Teaching
Reykjavik University, Faculty of Law
Responsible for and teach the bachelor level course Capital Market Law since 2017
Responsible for and teach the master level course Company and financial market law since 2020
Responsible for and teach a course to prepare for law exam to obtain securities licence and responsible for the exam since 2020
Lecturer in the master level course Property- and economic crime 2011-2014
Law and regulation in the financial market, course to prepare for the third part in the securities trading exam, 2017-2019
University of Copenhagen, Faculty of Law
Responsible for and taught the master level course Company Law – Limited Companies (in Danish) 2014
Leiðbeinandi meistararitgerða á sviði verðbréfamarkaðsréttar og félagaréttar, 2015-2016
University of Iceland, Faculty of Law
Lecturer in the master level course Financial market law 2013 and 2017
Assistant Lecturer in Jurisprudence, 2007
Committee work and other activities
Member of the Financial Supervision Committee since 2020
Member of the board, Financial Supervisory Authority of Iceland, 2018-2019
Editorial Board of Nordisk Tidsskrift for Selskabsret since 2019
Stjórn Lagastofnunar Háskóla Íslands, 2007-2008
Stjórn Orators, félags laganema, 2006-2007